We recently hosted a Taster Day in our office with people interested in design, development, and digital agency. They met with two of our design team – Eden Allen (User Interface (UI) Designer) and Anita Victor, User Experience (UX) Designer. In this blog, we share the questions and answers from the day about their experiences working in an award-winning agency.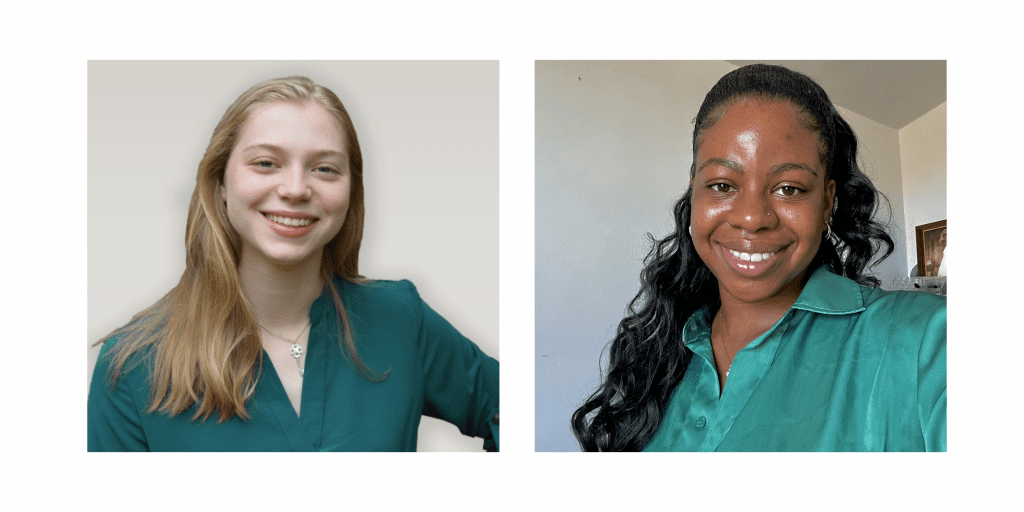 What is User Experience (UX) Design?
Anita (UX): UX Design initially starts with research. At Sonin, when we meet a new potential client, we research everything about their company: what they do, who their customers are, what their customers like/dislike. We learn as much as we can about them to understand the product they want to make with us. Next, we collate the research and figure out how this relates to what the client wants, building up a picture of what they want and what their customers need. After collaborating with the client, we then map out the user journey, thinking about what the customer's end goal is and breaking this down into smaller sub-tasks to create their path through an app or website. It's like architecture, but digital!
What is User Interface (UI) Design?
Eden (UI): At Sonin, we create bespoke products, so as a UI Designer here, we design everything you see on an app or a website, from log-in to the buttons to animations and so on! The wireframes we receive from UX map the journey, we need to make sure we know why UX has chosen to put things in certain places and consider how users interact with the interface – then we start creating. We are always thinking about what the client wants; their branding and specifications will drive the UI design. Throughout the process, we cooperate with our clients, showing them our ideas and designs, incorporating changes and look for solutions.
Anita (UX): UX and UI blend together; we often get opportunities to crossover into each other's area and learn from each other. I have really enjoyed getting to work on a UI project recently!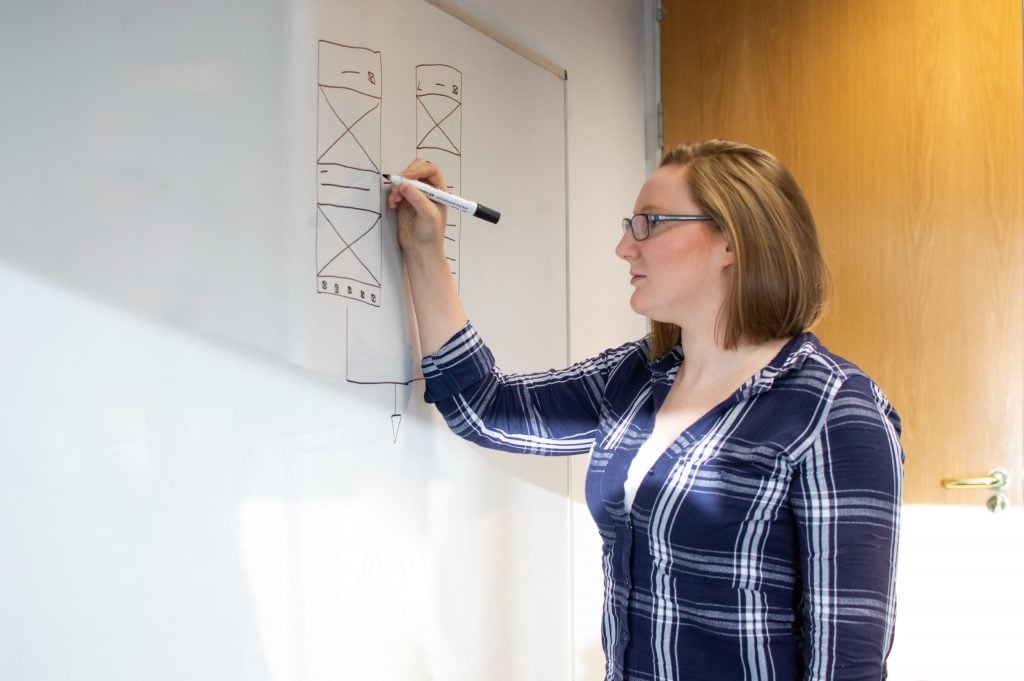 How did you choose your area of Design?
Anita (UX): I studied Criminology & Psychology for my undergraduate degree and I really enjoyed researching. The best part was finding information and figuring out how it all fits together. I then did a Masters in Forensic Psychology. It was after that I started looking into research roles and discovered UX. I was curious about it, so I studied and practised. I started freelancing and looking for an internship where I could keep developing my skills and really get an understanding of what it is like to be a UX Designer in a company. One of the companies I applied to was Sonin, and I got it! I've been at Sonin for 10 months now and can proudly say I am no longer an intern but a Junior UX Designer here!
Eden (UI): I went to university to study Graphics. I'd never even heard of UI! When I left university, I looked into Website Design and that's when I first came across UI. I made a connection through a family friend who gave me an internship in London and it taught me what UI was and how to build websites. But honestly, I'm still torn between UX & UI! As Anita said earlier, the two work together; you can't do one without understanding the other.
How do the Sonin Design Team work with the Developers?
Eden (UI): It's very collaborative between Design and Development at Sonin. The Developers need to be able to build what we design. We could give them the most elaborate, complex design and they would turn around to say it would take a year to build, which isn't practical! You learn over time what the developers will like or dislike about the design, what will be too complex or take too much time – part of our job is balancing what looks good and what works.
Anita (UX): UX is driven by the client but also their customers. Throughout building the wireframes there is an open line between us and the developers, we have to be specific in our designs so they know, for example, which elements are buttons or interactions. We have to be very clear with our designs to ensure the they can take on our work and know our intentions for the app or website.
What do you like about working in an Agency?
Anita (UX): For me, it's the variety of agency work. Throughout a week I might touch 3, 4 or even 5 projects (if it's busy!), all different types of projects. Also, some of the companies we work for I've come across before or know, getting the opportunity to work for them is just amazing!
Eden (UI): We get the opportunity at Sonin to take on existing projects and start from scratch. Personally, I love starting with a brand-new project, I really enjoy putting it all together and in my own way, even down to the filing of a project! Although I started my career working on website designs, I now prefer building app designs – it's easier to control the design and how the users interact with them.
How can an aspiring Designer find an internship?
Eden (UI): Make connections! The best thing you can do is get out there, talk to people, make contacts; their friend of a friend might work in Design and give you the foot in the door. Design is all about knowing people in the industry, you'll find opportunities and open doors to start your career.
Anita (UX): I would also recommend research, think about what type of internship would work best for you. Do you want on the job experience or would you prefer to have a course-based internship? Look into the companies you would like to work for, research their processes, their designs and reach out to them – that's how I ended up at Sonin, by asking!
Do you have any advice for people who are starting off their careers in UX or UI?
Anita (UX): Ask as many questions as you can and don't be embarrassed about negative feedback. I was so scared of doing something wrong when I was an intern, but I realised I was there to learn and you can't learn without making mistakes. The best thing you can do is soak up the knowledge of other people around you, they already have experience and have made the same mistakes, be curious, you'll take so much from your internship that way.
Eden (UI): If you're interested in UI, I'd suggest starting with the basics, learn about UI principles and typography, that will give you a strong foundation. Also, have a play with programmes like Photoshop, InDesign, Figma and Sketch, figure out the tools and don't forget to set up your keyboard shortcuts – it will save you so much time!
We're always on the lookout for ambitious people like Anita and Eden to join our team. For more information about how to join Sonin, see our vacancies.
If you don't see your role in the list but still want to join the Sonin Team, then we would love to hear from you. Please email people@sonin.agency with your CV to discuss your requirements. We look forward to hearing from you.