Continuing our rapid growth over the past year and following being named one of the top app developers in the UK, we're thrilled to announce another triple hiring at Sonin! Over the past two weeks we've had three new developers join the team: Leon (PHP), Elena (iOS) and Martha (Android) will continue to ensure that every one of Sonin's clients receives the highest quality solution.
Our developers work in unison with our UI and UX mobile-first designers to build innovative apps that combine great user experience with a secure and inventive platform. By combining existing and emerging technology and processes, we develop bespoke consumer and enterprise mobile-first solutions. Our apps align with business goals and support digital transformation.
The new additions to the office mean our headcount has increased by an astounding 67% in the last twelve months. This includes doubling the number of developers, taking the team from six to twelve!
Recent client wins with a number of global multinationals and national companies has pushed Sonin towards its goal of becoming a top UK agency. With this rapid growth, we're looking forward to continuing what has been a highly successful 2017!
The way we use apps on a day-to-day basis is changing. Apps are adapting to meet our changing lifestyle and integrating with new technology. As our team grows our expertise widens, giving us the opportunity to design and develop smarter and more innovative apps to support this change. It's an exciting time in the industry and we're thrilled to be a part of it. Creating valuable apps that support our clients in tomorrow's digital world.
Welcome to the team Leon, Elena & Martha!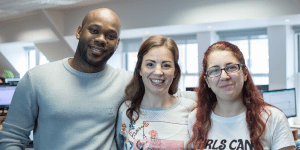 Looking for a UK based app agency?
Want to know how our growing UK app agency can help your business? Get in touch with us today to discuss your plans.