Welcome to App-nalysis, our monthly blog where the Sonin team review one of the latest apps on the market.
This month we've trialled health and fitness app, Good Morning Alarm Clock.
(We decided to avoid the much talked about Pokémon GO as there's enough reviews out there already!)
Concept
Considering there are already numerous apps on the market claiming to improve your sleep, we've been quite impressed with this one. Good Morning Alarm Clock keeps things simple, within only one aim – to give you a better night's sleep.
So it might not feature any ground breaking technology, but as we know, the most successful apps are the ones that are time saving and task orientated, and this fits directly into that bracket.
Key Features
With only two core features, the app has been created to answer one need: to put you in a good mood when you wake up. The main feature is the intelligent wake-up, where it uses your phones built in accelerometer to monitor your movements and wakes you up when you're in the lightest phase. By creating a 30-minute window before your selected wake-up time, the app makes sure you wake up gently and at the most natural point in your sleep cycle.
The second part of this app includes a nightly record of how well (or didn't) sleep throughout the night. Giving you the information you need to change your normal routine to avoid under- or over-sleeping.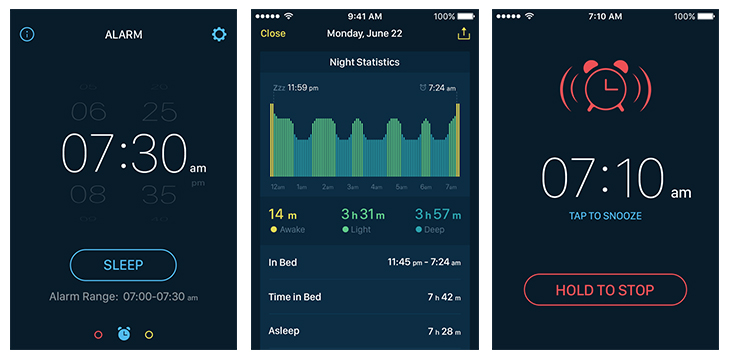 Design & Usability
The simplicity of the app is mirrored in its design, with simple icons, minimal text and clear CTAs. The branding and styling is consistent throughout with an intuitive user journey only showing exactly what the user wants to see when they want to see it.  The clean and uncluttered screens ensure that the users are focused on the main functional elements of the page and allow for quick set up and tracking.
Overall Review
You can't argue with its 4.4* rating on Google Play, and from what we've seen it does exactly what it says on the tin. An app that helps prepare you for the day ahead will ultimately make you more productive in the office and that's a big tick in our books.
Want  your app reviewed?
If you have a new app that you'd like featured in our monthly review, get in touch with us today.