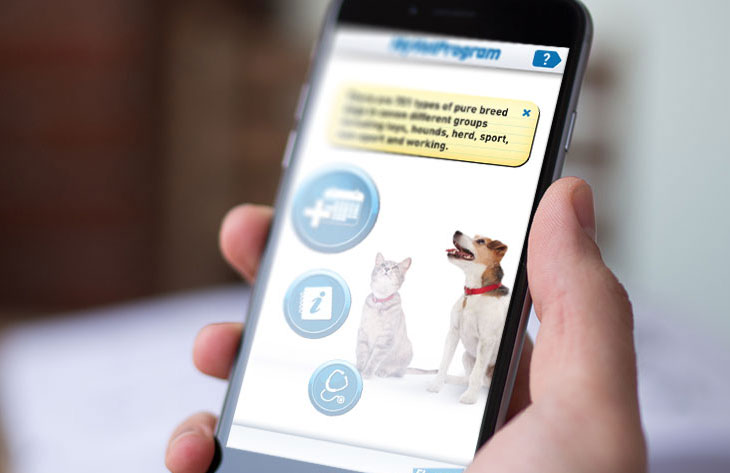 Demand for pet care is currently huge and will continue to be for the foreseeable future. All pets are considered as valued members of the family which is reflected by the significant rise of pet related mobile apps available today. What these apps aim to do, and a key reason why they're proving to be highly useful marketing tools for pet businesses, is focus on achieving two things; contributing to the well-being of our pet's lives whilst significantly reducing the time spent by owners in doing so.
Pets take up a lot of our time. There's the walks, the vets appointments, the diet programmes along with all of the required foods to sustain it, plus more. It's this constant need for pet owners to assess, address and monitor their pet's wellbeing that continues to be the driving force behind the rise of the pet app, and the only way that an app will warrant a download. Whether you're a local pet shop business looking to increase pet interaction or a high-profile pet food brand seeking to measure diet and nutrition, ensure that the app is attentive in its approach and engaging in all aspects. This will put your app (and business) in good stead for the future as pet owners are likely to continue using your app should they feel the benefits from the off.
So how do you go about establishing this concept? There are five common concepts that have been exploited more than others; healthcare, social, security, travel and general services have proven to be successful during the rise of the pet app. This said, don't be afraid to think outside of the box and draft up ideas for a brand new concept. By working in the pet industry you'll have a better insight into common pet related issues than anyone else which you can then use to your advantage. Use your concept as a starting point and then begin to brainstorm content around this.
Remember the more engaging the features, the more memorable the app will become. Let's take a look at some of the more frequently used features.
Reminders
Pet owners face the task of remembering a number of things for their pets, from taking them out for walks, to cleaning out their hutches, to defleaing them. Adding a reminder feature will allow users to use your app as a centralised hub where they can store and manage of all of their tasks, which will then draw them back in when you alert them of their entry. Reminders are also a great way of generating business by selling your products and services when these reminders are launched.
Logs
Pets need to be monitored for a number of things, as us humans do. It's how we're able to spot reactions to medication, diet changes and gauge overall increase/decrease in health. Including a log feature into the app can work for a number of pet related amenities, including behavioural changes to new food, their mood after increased exercise and reactions to new grooming equipment.
Guides
Making your app a source of useful information reinforces its value to pet owners. Recently new pet owners would particularly benefit here with a range of 'How To' guides, for instance how to gradually change food, how to prevent urinating indoors and how to get their pets comfortable with new additions in the household.
In addition to the above there are many other ways that apps can be used to target the pet owner demographic in the UK. Getting the concept and content correct will present many opportunities for pet businesses of all statures. Your businesses are in a fortunate position as there will always be a need to keep our pets safe, secure and happy. As mobile continues to offer quicker solutions to everyone, pet tech gives people access to services and products for their pet at their fingertips.
What have we been up to?
Here at Sonin we've worked with a number businesses in the pet and veterinary industry, including our work with global animal health company Elanco with their 'My Vet Program' iOS and Android app. If you're considering an app for your pet business then contact us today and find out how we can help you.
This article was originally published online at Pet Gazzette and on the monthly print edition of Pet Business World.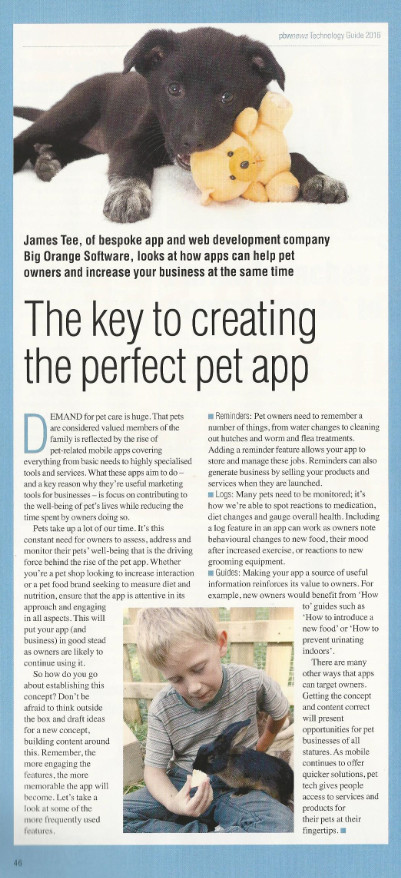 Like what you read?
You can receive blogs like these, amongst other hints, tips and industry news directly to your email inbox, by signing up to our weekly newsletter The Sonin Broadcast.