Welcome to App-nalysis, our monthly blog series where the Sonin team will be analysing a popular mobile app from the month gone by and look at how and why its concept and design has played a pivotal role in its success. Our aim is to give you an insight into current mobile trends which have then been applied to mobile apps in various industries.
Next up we'll be looking at Connfa, the open source iOS and Android app for conferences and events which has recently been drawing much praise from its users. Connfa manages to combine enterprise functionalities with consumer need to offer a unique experience whilst significantly decreasing business cost at the same time.
Overview
Connfa is a cross-platform app specifically designed for businesses in the conference and events sector. It's main aim is to discard the traditional paper brochures which are handed out to attendees before they enter the venue, amongst other benefits.
The first iOS and Android apps were used for DrupalCon in Amsterdam in 2014 for the 2,000-person event, where it allowed its users to plan their time at the conference more efficiently. Since that event the app underwent various updates after taking users comments and ideas into consideration, which was then implemented on both sides of the Atlantic. Following this success Connfa decided to open-source the app in January this year which can branded and tailored accordingly by a mobile agency.
What features does the Connfa app bring to conference and event attendees?
Event Schedule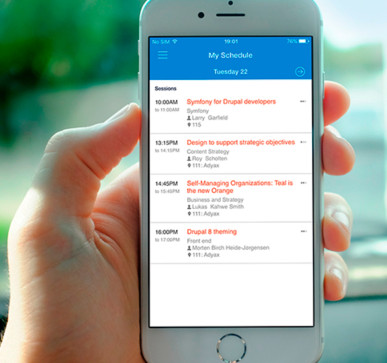 (Image courtesy of Connfa)
All conference and events sessions can be organized in the Connfa app by hours and days. Multiple schedules can also be uploaded to run in conjunction with the respective event's format where users can then auto scroll to the current time of the day, to ensure that sessions aren't missed. In addition to this users can custom create their own personal timetable of various talks, presentations, BOFs and social events by adding these to their favourites list.
Within these schedules users can select individual sessions which are accompanied by the speaker's name, date and even the experience of the attendees for networking purposes. The event schedule is also enhanced as it contains information about the speakers during the session, which includes their position, experience, certifications, publications and contact information.
Offline Mode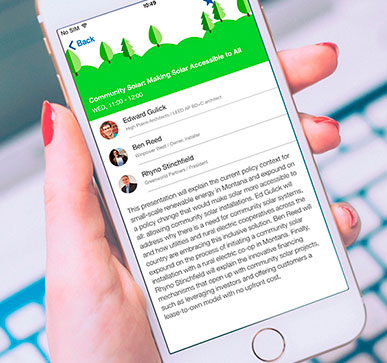 (Image courtesy of Connfa)
The app is synced with the official website of the respective event organiser which ensures that all schedules created beforehand can be accessed whilst on-the-go. The app also includes an offline feature which means that users can still access their required information even when the wifi-connection is poor or unavailable. This personal information can be created and edited in users' My Profile' area.
Reminders & Notifications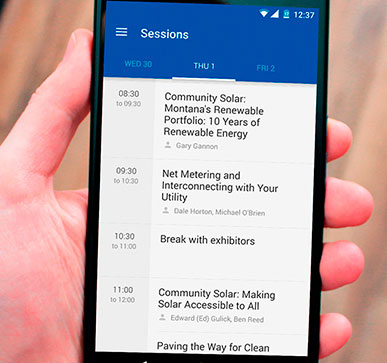 (Image courtesy of Connfa)
When users favourite specific sessions they can select to have reminders/alerts sent to them five minutes before the event starts, reducing the risk of missing out on important information that could potentially affect themselves or their organization.
Rate Sessions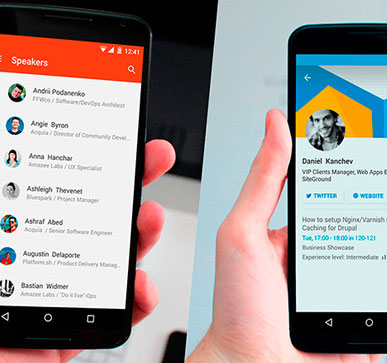 (Image courtesy of Connfa)
One way for businesses to better their products and services is by listening to the users that are engaging with them, which is something that Connfa has taken into account. As sessions take place the attendees are able to rate what they have just seen or listened too, which allows organisers to continuously improve and tailor their offerings to their client's needs.
Event Information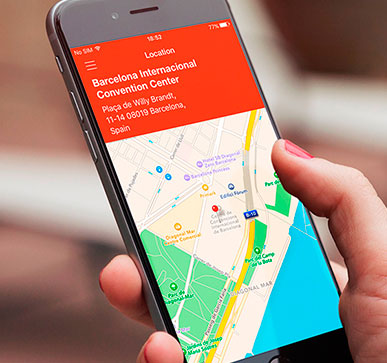 (Image courtesy of Connfa)
Businesses can add useful details about the event on the app which can cover everything from official sponsors to links to your certifications. You're also able to populate the app with information about the venue so that users can find you easier and make the necessary travel arrangements to do so.
Summary
Apps like Connfa demonstrate how mobile apps are abling businesses to streamline their operations and improve efficiency in all aspects. They're also proving to be highly useful marketing tools aimed at audiences/consumers who are becoming increasingly accustomed to engaging with businesses through mobile devices.
In the mobile industry keeping up to date with the latest developments and analysing market trends is key to producing the best app. We at Sonin apply this knowledge to every project that we own work on and thrive on seeing the mobile industry grow. If you have seen anything in the market that you feel can be applied to your own app then we'd like to hear from you, by visiting our contact page.
Li
ke what you read?
You can receive blogs like these, amongst other hints, tips and industry news directly to your email inbox, by signing up to our weekly newsletter The Sonin Broadcast.